Not a too eventful day, really...
Getting up around 7'ish, even if it sounds ridicilously early.. (But I'm sure we were fast asleep before 11 yesterday..)
Drove the ca 20 km back to the vet's office,getting their passports stamped and signed - we were ready for the next step in our journey... The ferrytrip! (Did I mention that I really, really hate ferries!)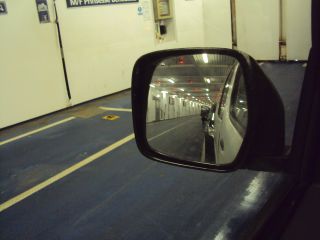 Anyway - with some 10 other cars we went over the sea from Denmark to Germany at 9.15. In other words - there were hardly any people there at all - imagine being alone in the shop at the ferry :-O.
Picture showing my view of the line...
83 kilometers (now totally: 1610), 10 hours and 4 countries later - we arrived at the Holiday Inn Hotel in Gent (Belgium). A little confusing how to find the parkinglot, even if the hotel itself was easy enough to find.It was really, really nice. BIG room, two large beds (queensize, I guess) clean and nicest hotelbathroom we've ever seen.
They were also totally okey with the dogs, but I guess they charge extra for them, so.....
Dinner at the bar of the hotel, and an early night.