The alarmclock went off as planned at 5.30.. Shower, breakfast at 6.30, driving to Crufts as soon as we were ready.
Finding our way around the NEC wasn't that good - but after a little while we got into the West Carpark. Walking for about 10 minutes - entering THE Dog show - finding benches and of course Gill (Burfitt).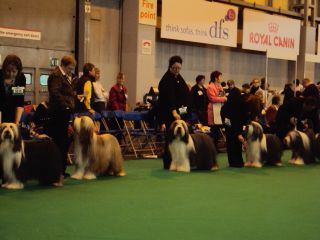 Moby into the ring at 9.00 (picture) - not being placed, but with owners and breeders I really respect alot telling me that he looked really, really god, and "should have won" count alot more for me than anything else.
As the judge (of course) was the same in Open Dog - I didn't bother take him into that class. But Mac was shown there - and looked very nice - moving and behaving well. The judge went back to him for a second look - but no placings there either.
And that was really quite okey...
Milla entered in Open bitch class - and really enjoying her day out. But with a really strong bitchclass there - well, to be honest: I wouldn't have placed her either...
The rest of the evening was spent in "awe" with the mating between Moby and the fabulous bitch (World Winner 2008) Int H SR Ch Firstprizebear's Cony Island. Truly a magnificent bitch, and we are so proud and happy they choosed Moby for her second litter.
Plan for tomorrow: getting up early, Mac coming over to our care, going to Crufts for shopping, getting another mating done with "Coney", starting the way home...