From yesterdays plan: Plan for tomorrow: getting up early, Mac coming over to our care, going to Crufts for shopping, getting another mating done with "Coney", starting the way home...
All done!
Starting southwards at around a little after 2 o'clock, 2140 kilometers on the tripteller of the car (the total km of the trip), off we went...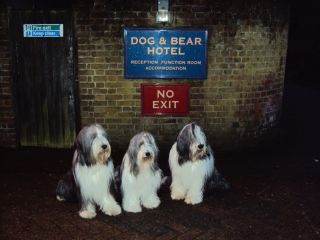 Finding London Orbital (?), ALOT of traffic, getting to the lovely and very Brittish traditional hotel Dog & Bear Hotel in the town of Lenham around 7 o'clock.
Moby was totally OK with Mac in the pack again, and Milla was trying to play and "playfight" with him at all possible occations.
In the hotel Milla really made a point of showing Mac that PLAYING is the only way of living here..
The hotell itself was a really old-looking buildings, incl. the room. But it was really, really nice!
Eating Fish n'chips in the hotel restaurant, enjoying 80'ies music from the bar, and just enjoying a great Crufts-weekend is over. The food was GREAT.
As we were going to take the train tomorrow (Eurotunnel) at 7.50 - yet another night seemed to be in its place right now...
By 11 - we were all sleeping so well.