Int Nord UCh NordV-00-02 NV-00-01-02 KbhV-01
Taildown's To Be Or Not To Be
"Minnie", brown/white bitch - born: 3/12 1995, died: 8/10 2007
Our "best girl, ever" Beardie: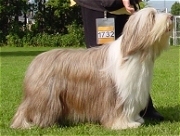 Top winning beardie in Norway 1998, 1999, 2000, 2001 and 2002.

Most winning bitch in Norway 2003 and 2007.

HD and AA free

"Bronze medal" in obedience

Around 60 BOBs, 4 times groupwinner at international champ.shows in Norway, BIS at several clubshows, and so on..
Pedigree:
Int S N UCh SV-95 Potterdale Illusion

Gb UCh Potterdale Conclusion

Potterdale Anderson at Ramsgrove

Gb Ch Blumberg Hadriana of Potterdale

Gillaber Caledonia at Potterdale

Gb Ch Pepperland Lyric John at Potterdale

Gb Ch Gillaber Highland Lament

Int Nord UCh NordV-94, VV-96, KbhV-96 Binbusy Invocation

Gb Am Can Ch Sammara Standing Ovation

Potterdale Enccore

Willowmead Simply Super

Gb ChCh Binbusy Cadence

Gb Ch Pepperland Lyric John at Potterdale

Charncroft Canticle at Binbusy