Int Nord UCh NordV-94 VV-95 KbhV-96
Binbusy Invocation
"Muffin", brown/white bitch - born: 20/8 1988, died: 6/5 2002
Our "once in a lifetime" Beardie: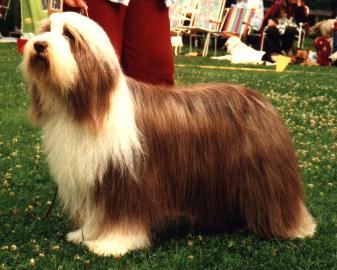 Imported from Great Britain as a puppy

Most winning Beardie in Norway 1993, 1994, 1995, 1996 and 1997

Most winning veteran all breeds in Norway 1998

CC record holder in her lifetime (beaten by our own "Moby" many years later)

The ONLY beardie ever being BIS at an int. champ.show in Norway (and

she did it 3 times!)

Only beardie bitch in Norway winning the World Winner title

Second most winning Beardie in Norway 1989, 1990 and 1992

Second most winning bitch in Norway 1991 and 1998

Second most winning senior, all breeds, in Denmark 1997

Her last two shows: BIS veteran at "Stora" Stockholm and the World Dog Show in Wienna

AND - a mother of 12 champions, from her 20 pups..
Pedigree:
Gb Am Can Ch

Sammara Standing Ovation

Potterdale Encore

Ch Potterdale Philosopher

Ch Tamevalley's Easter Song of Potterdale

Willowmead Simply Super

Ch Willowmead Star Attraction

Ch Willowmead Perfect Lady

Gb Ch

Binbusy Cadence

Ch Pepperland Lyric John at Potterdale

Wishanger Buttertubs Pass by Quinbury

Pepperland Pandamonium

Charncroft Cantcle at Binbusy

Wishanger Whimsical of Willowmead

Charncroft Chit Chat