The bitch judging started at 8.00. And this was Connys day in the limelight. Happy, happy, happy, sparkling clean and very shiny - but the judge obviously missed out on a supersweet little girl, so she didn't get placed. But at least she DID lift her head off the ground on the move (I never thought she would do that!).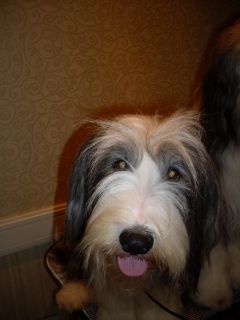 Judges seminar at 13.00, with Chris Walkowicz (socalled "The Beardie-Lady over here) and Ian Copus (Rallentando kennel). Very interresting, and lots and lots of dogs to go over, seeing them on the move, being able to take a close-up look at my absolute two favourites. Abit different interpretation of the breedstandard, but basically the same stuff they were thinking about here than as home. Found lots of beautiful heads, necks and shoulders here - toplines not sooo much... Beautiful presentation and handling (on most), and they DO like their beardies with less undercoat than us.. (And neither Milla nor Moby would have been the most coated in the rings here!)
Oh yes - what dogs did we get the chance to see/go over? No 1 and 2 in all classes were invited - so these were the main winners of the day! (Maybe not so strange that most of them were very nice?)
Started to pack our stuff together.. Oh man - it's alot! I filled the little Samsonite untill it was almost round. The other suitcase and new handluggage bag (with a beardie on, of course!) just MUST take the rest of my things...
Drove off to the nearest restaurant "The Cheescake Factory" - ate a great pizza.. Sitting here at the hotel now an hour later - and it still feels like I will never feel hungry again!