Tuesday 29th September
Waking up, and silly enough feeling like I've been away from home for a week already.. I guess I still suffer from some sort of jetlag, or something.. Or maybe it's just the feeling of being totally relaxed, and acctually on a holiday?!?
Leaving the hotel at 9.30, walking over to the Empire State Building - just some 10 minutes walk along the West 34th (where my hotel were as well).
Entering THE BUILDING - one of the landmarks of the city, and with such an aura of history around it.
Laughing at myself for being worried about not finding out how "that whole thing works"…. People in uniforms, ticket" people", guides, etc EVERYWHERE. No chance of getting lost at all, really!
Fun fact… For the last twenty years I've been "off" my glasses for 2 days. And those two were the two with sightseeing in New York! But it works, and I do really think thai I've seen the stuff I was supposed of seeing. But I will try and get them glued back together.. (I bought the glue yesterday!)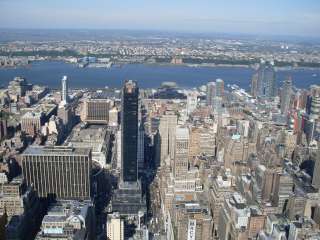 Touristguides warn about the lines at the Empire State Building - to get in, infront of the ticketagents, infront of the two/three elevators, etc. It's vice to acctually plan to use the whole day... So I was quite optimistic when I saw just a few people in front of me (maybe 20). The elevator ride up to the 80.floor (where we change elevators). Up there it was about 30 minutes wait. I know it doesn't sound like much - but the Americans obviously LOVE heat so the indoor temperatures are really, really high!. So it was really not too much fun standing there...
At the 86th floor (I didn't bother to get in another line for the 102nd) - it was an AMAZING! Okey - really windy - quite cold - but with breathtaking view! You really think that you are on the top of the world!
And yeah - even if there were a lot of people there, it was still no problem getting to the fence and taking all the photo's you want.
After some 30 minutes up there I was quite fed up with the wind and the people.. Trying to line up to take the elevators back down, and the line was looooooong...
We were offered to take the stairs down the 6 floors down to the other elevators, and I'm sure I quickly saved probably half an hour of waiting by taking the stairs. (Wouldn't have done it all the way down, of course...).
The straight down view: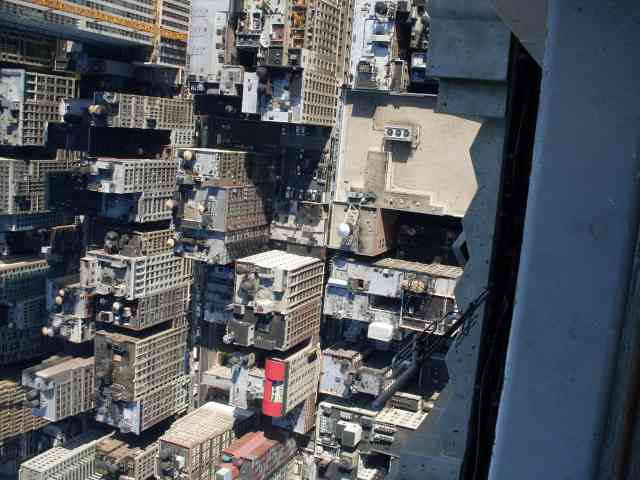 Back at the hotel around 12.30 - getting my suitcase, walking down to Penn Station (under 10 minutes). Getting the ticket to Wilmington, Delaware, with no problems (saving some 80-100 dollars with agreeing to an hour wait).
Spending my time with a cold beer at TGF's at Penn Station, being served by a very nice lady named Suzanne...
The first part of my USA-trip is now soon over.. But I'm not sad about that at all - just really excited of the next part...
2.05 (14.05 as we say it) train came along as planned. I was just hoping the train wasn't full.. It wasn't - the seats were great, and even if there weren't any wi fi there - I was pleased anyway...
Two small hours later I came to Wilmington Station - meeting up with Ruth Anne. Spending the evening with talking beardes and cuddling with the dogs.