Thursday 1st October
The Hatboro Dog Club's all breeds show in Wrightstown in Pennsylvania.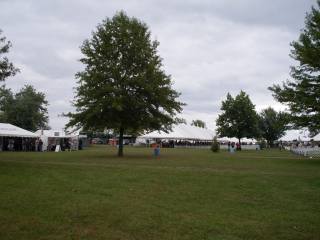 Left home early in the morning after not at all enough hours sleep (you now how it is...). Nervous, but excited, for coming to a dogshow in USA for the first time! No many beardies entered, but the 'big' plan for today was mostly to see how the beardies behaved in the ring.. Not truly impressive, I'm afraid, and we'll never mention the no of entries here. So let's just say that they both won their classes and Dean was 'winners dog' (but no points). He was happy, very excited and more 'all over' than cool and collected...
By the way, the judge was: Mrs Kathleen Steen, USA.
Connie (Woodland Concerto) also got the blue ribbon (winner) for her class. Also a happy little girl at her very first dogshow). It was really, really difficult for her to lift her nose from that really good smelling ground, though..).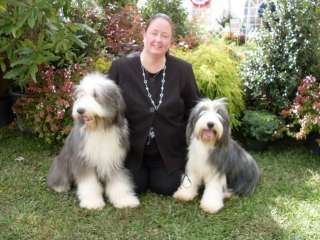 One really amazing thing happened, though.. Parking the car out there on a field, walking back/forth a couple of times, showing the dogs, starting to get ready for checking out the vendors. Suddenly I hear someone say "Susanne??" - and turing around I saw this van next to us and a guy (pro handler here) with a BIG smile. And he started speaking Norwegian, and after a little while I realized that it was a guy I knew very well some 15 years ago in the am. cocker "world" here. Such great fun seeing him again, he was (is) the nicest guy ever!

Meeting another norwegian proffesional handler that Ruth Anne knows from earlier years. And he could tell us that there were actually at least 6-7 norwegians around there at the showground.

And fun fact - there were close to 2000 dogs entered there totally!

A little more training with the dogs tonight (after a little trip to Walmart yet again finding clothes... )

Both the beardes are now at least starting to get a little idea of what I'm talking about... Lets hope it'll show in the ring as well.. Dean is really trying to keep all 4 feet at the ground once in a while, and Connie is figuring out that she really doesn't have to smell every little ting on the ground, at least not ALL the time...