Saturday 3rd October
Going to Lancaster County (still in Pennsylvania) to "visit" Amish-country (and the menenites). First a visit to Smuckers Farm to look at and buy a couple of gourds. This was an amish farm, and Shady Maple, and their unbelieveable "Smorgasbord". Worth to mention first of all because it was a GIGANTIC buffet - 200 feet long!! And I'm sure I couldn't even think of a thing missing at it!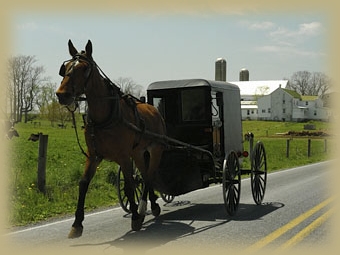 So a couple of more "things to do in USA" taste macaroni and cheese, pumpkin pie, and the local shooefly pie (whatever that was!). And root beer was nothing to try again, but ginger ale really is.
And with an 40.000 square feet souvenir shop at the same place.. The fooe was wonderful (it's said that it's all prepared in a traditional Pennsylvanian Dutch Style.
Not getting back home until rather late, so it was just to get on with the washing of clothes and start to plan how to pack the car tomorrow. With two big dogcrates, 4 suitcases, a couple of smaller bags, grooming equipment, grooming table, auction gifts, etc...