Monday 5th October
Arriving Minnetonka 12.30-13.00. Minnetonka is a part of Minneapolis - and the adress for the Marriott Hotel that holds the BCCA show this year. The trip incl. a sleepingbreak, feeding, walking the dogs, and probably a million "pottybreaks" for all four of us.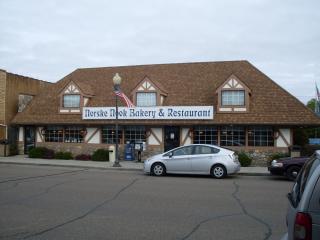 As we decided against getting a hotelroom, we drove all through the night we stopped for a great breakfast at Norske Nook in a small little town in Minnesota..
Strange little place that seemed so proud of their norwegian heritage, serving "lefse", and their speciality: "lingonberry". (Not so norwegian, though...)
At the Marriott hotel we were met by the BCCA representatives, and they were the sweetest one could imagine.
And we got these great giftbags - lots of fun stuff!
The room was great - bigger than the one in NYC, and about the same two beds, but so much more well kept, and luxurious.
But around 9 at night it was impossible to stay awake anymore. On with the TV, and falling a sleep in front of it.
I guess over 24 hours in a car will do that to you...