Taildownpuppies 2008
Mitten gave birth to eight lovely puppies -

1 fawn and 2 blue bitches, 5 blue dogs on the

30th of Oct. this year.
Picture (left) shows Mac (dad) as 6 weeks of age.
The puppies pedigree:
Ch Kindle Passion Just Marvellous

Gillaber Castle Grant

Runival Ruthven

Gillaber Tillykerry

Philemons Kindle Passion

Int Cz Slo Natterjacck Just Czeching

Philemons Invisible Touch

Stars at Sea Zweet Blue Sky

Int Slo A H Lux Cz Kro Ch EuJw-02 Natterjack Jay Kay

Gb Ch Bendale That's My Boy

Gb Ch Diotima Blue Kisses to Natterjack

Int Slo Hr BiH SCG Ch Breaksea Baby's In Black

Gb Ch Moonhill's Does It In Style

Gb Ch Breaksea Imagine
More info about the parents are found on their individual pages - click on their names here: MAC - MITTEN.
Their indivdual devellopment (click on their name):
"Dean" - the big blue boy that we called Mini-Mac from birth, moved to Ruth Anne, Jim, Tyler and their three Beardiegirls in USA.
"Elmer" (aka. DUSTIN) - the lighter blue boy - moved to Bente and her family in Krokstadelva to live with them and their Beardie "Tjafs".
"Elvis" (aka. DANNY) - the smaller of "the twins" - moved to Svein Sæle in Bjoa.
"Pita" (aka. DIVA) - the fawn little girl has moved to Langhus to live with Eline og Aleksander
"Frida" (aka. DEBBIE) - the little blue girl - moved to Steinar og Inger-Lise in Stathelle, meeting up with their 12 year old beardielady "Maja".
"Molly" (aka. DOLLY) - the really flashy blue girl - moved to Anders og Anne in Løten and their beardie "Lasse"
"Snurre" (aka. DOUG) - a big flashy boy - moved to Runar & Tove in Blaker to show them how super the beardies are.
"Ull" (aka. DONNY)- the big blue "twin", although soon became the biggest of the boy
Last ones: 25/12 2008 (only Molly - the day she left)
26/12 2008(Dean, Danny, Diva, Frida and Ull)
1/1 2009 (Dean and Ull)
24/1 (Dean and Snurre)
Crate-training for Dean and his travel to USA.
Daddy Mac trying the crate out - and warming the crate up for little Deany to have his 'go' at it.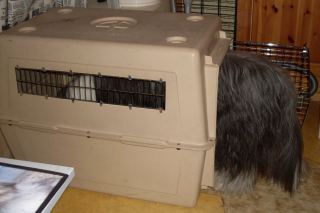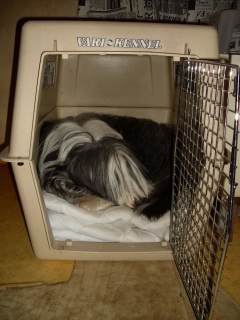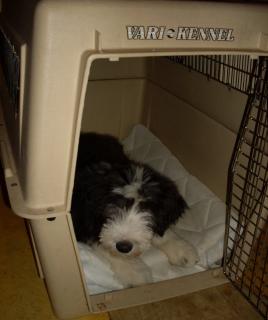 All left, and Dean was all "alone" for some weeks, but the weekend of 23-26. January brother Snurre came to stay with us.
The boys had SO much fun!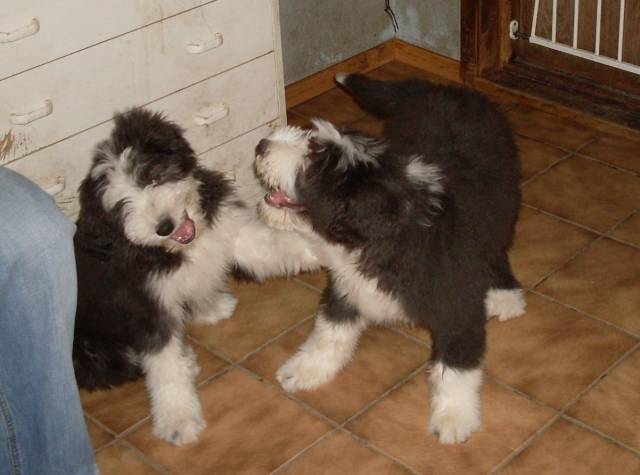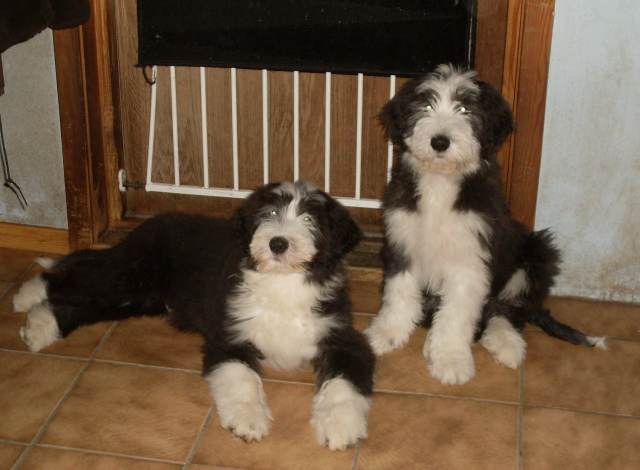 Snurre & Dean Dean & Snurre
"Just the two of us"
December 29th, and only Ull and Dean here.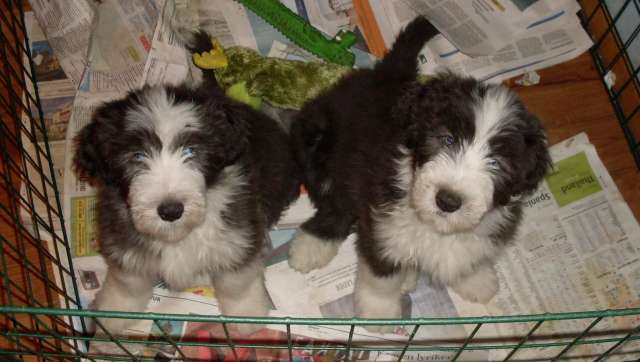 Ull & Dean
Being outdoor (on the veranda) for the first time - Dec. 21st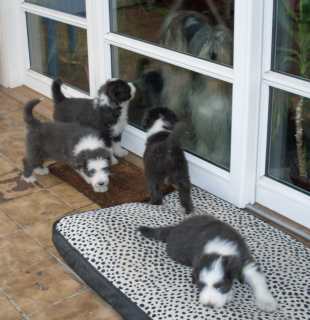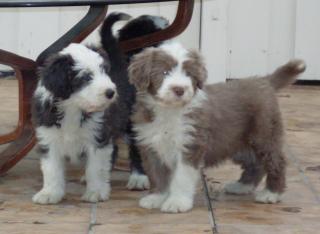 Going by car - and at the vet - for the first time Dec. 21st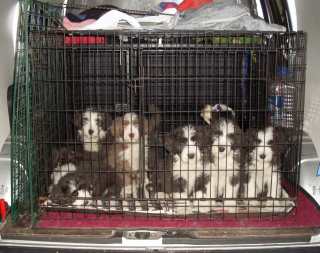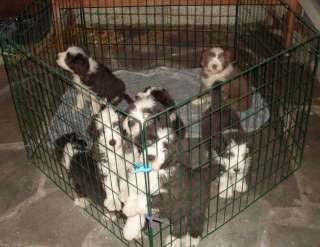 Dolly and dad as babies...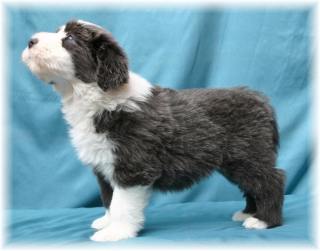 Dean (again) - showing how to get out of the pen...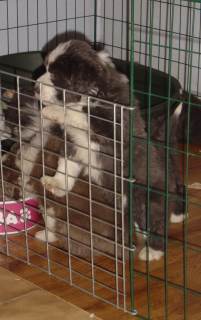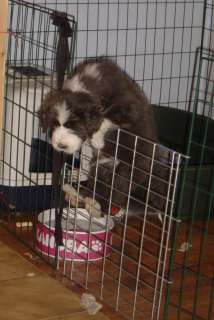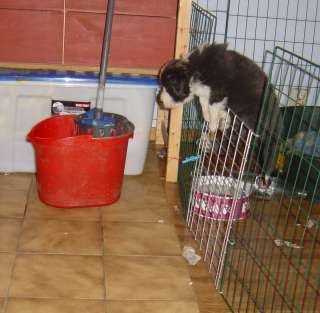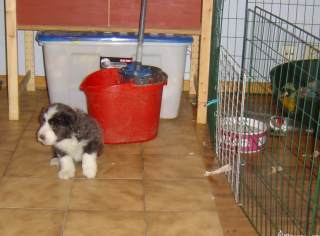 Dean noticing a whole new world out there... And another puppy hopes to have some food just falling into his sleepy mouth...
And yes we do have snow now!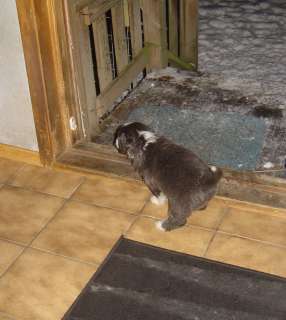 4 weeks old - Diva sleeping in the food - and Dustin really not that comfortable "in" the dogbed: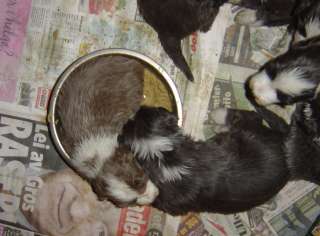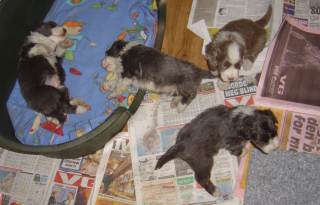 3 weeks old - getting more room to play (and eat) in: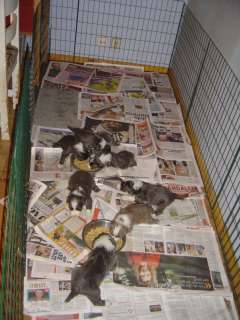 Their new bed is already too small: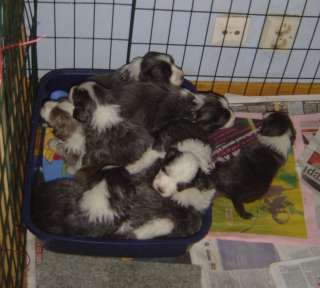 14 days old - moving into a bigger pen in the kitchen: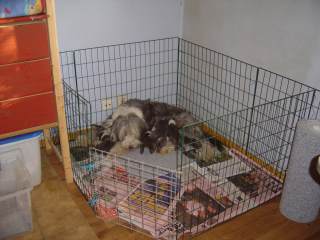 2 day old babies - the girls and the 5 boys.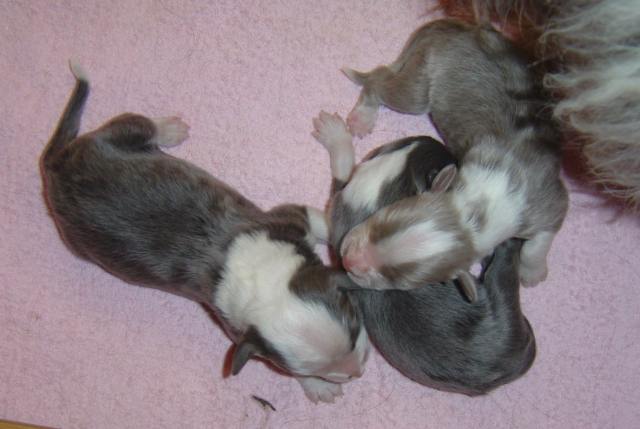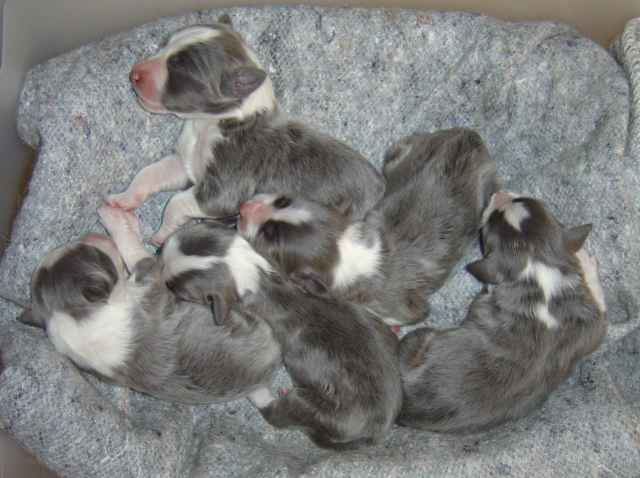 1 day old babies - showing the different blue colours, and the fawn girl:
Mitten in labour and a few hours later these bundles of joy were here
- 7 blue and one fawn pup.